The Touch of Chico's "Uplift Community!" virtual event on KZFR's YouTube channel is a compilation of inspiring local community healing advocates (of many modalities) who lead you through a journey of connection to your body, mind and spirit arriving in community enhancement.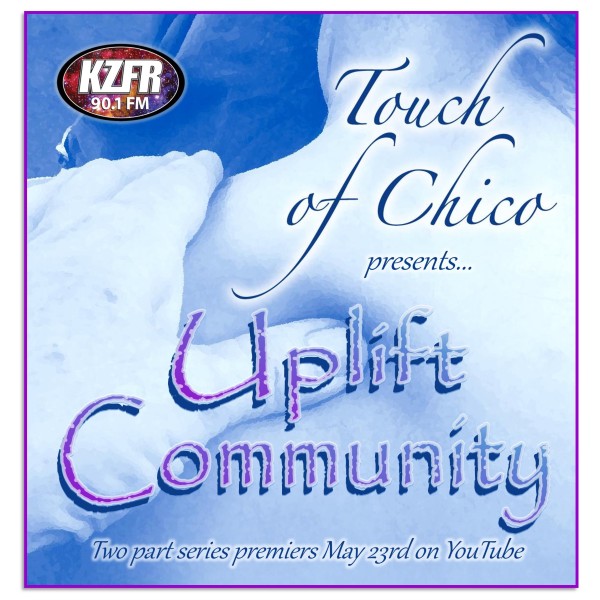 Uplift Community Host Susan Dobra - A writer, editor, recently retired philosophy instructor and current Board member for five nonprofits who is passionately devoted to community, music, and KZFR. Susan has been the host of many local Community Open Mics and other community events.

Co-Creators Diane Suzuki, host of One World Music & Leah McKean, KZFR's Volunteer Coordinator have co-organized the Touch of Chico since 2013, an annual KZFR fundraiser held at the Chico Creek Nature Center. This year they created this alternative virtual event Uplift Community!

Our Videographer Extraordinaire Team - Dan Carter, host of O'Dark:30 & co-host of Studio 416, and Bill Deblonk of Banana Grape Stomp, cohost of Playing Dead & Creole Stomp patiently filmed and painstakingly edited this entire inspirational project together.
--- Part I ---
LINK: https://youtu.be/1KqkKtv45Sc
"Opening Ceremony" - Whipple The dedicated father of Kachina, avid gardener, and practiced musician opens the Uplift Community Event!
"Grounding Meditation" - Theresa Juelch A facilitator of Compassionate Resilience & Somatic Skills groups, Theresa is passionately committed to community, mutual aid and solidarity work.
"Chi Gong movement" - Karen Ann An ancient form of Chinese exercise. Karen is a practitioner and instructor of Tai Chi and Chi Gong.
"Sound Healing" Pia States A Hospice and Palliative RN who uses a form of sound healing by using healing sound frequencies and applying special tuning forks on and around the body. She has been doing this type of energy work for the past 6 years both with clients in Chico and in the Bay Area. Her work is based on the philosophy of improving the body's energy flow to help maintain balance and good health.
"Self Care & Mind/Body Skills " - Malama MacNeil A native of the central valley, she has lived in Chico for 40 years. Now retired, she worked as a manual therapist, family care-giver, and doula for the dying. As a community elder, she offers virtual circles for practicing skills for self-care, soul tending, deep listening, and council way.
"Spirit of the People" - Brian "Gravy" Asher Guitarist/vocalist and spiritual leader is in the local band GravyBrain, which has been performing in Chico for many years. Find them at gravybrain.com
"Words" - Jesi Naomi Native Northern Californian, Songstress & Mixed Media Artist. Traveling to aid in the balance of worldly affairs through art, music and the sacred•tivety of Water "Words" Lyrics by Vera Bridges. Find more of her compositions on YouTube.
"Conscious Words" - Baba Kauna An inspirational speaker in the true sense of the term. He teaches African Dance for the community and serves Fire Refugees/Survivors. Enjoy his conscious words and elevating energy!
---Part 2 ---
LINK: https://youtu.be/XoAWPW7ZYng
"Sacred Mantras" - Anna Meehan A folk singer-songwriter who chants sacred mantras because she wants to spread good vibrations to help heal people and our planet Earth. Find more of her music on YouTube.
"Buddhist Meditation" - Adam Moes A local acupuncturist whose practice is Acupuncture and Herbs.
"Traditional Ecological Knowledge" - Ali Meders-Knight A Mechoopda Maidu living in her homeland and is an Instructor of TEK- Traditional Ecological Knowledge which introduces Indigenous land management concepts and ecological stewardship practices.
"2020" - D.Cings An artist on the rise from OakPark, Ca. Performing since the age of 5 and singing all her life. There was no question that Art ws her purpose and singing was her passion. She delivers a raw and graceful message while delivering the beauty and delicacy of the melody. R asking D.Cings why she chose art she said," Successful Art is a therapeutic form of honesty and I'm blunt. Art chose me". Find her on YouTube.
"Come Closer In" - Luke Anderson A writer and musician Luke has lived in the Chico area for nearly 20 years. He speaks about the value of staying in uncomfortable places and shares a song he recently wrote on this theme called "Come Closer In" Some of his writings can be found on danceawake.com
"Medicinal Mushrooms" - Christine Wood A Professor of Psychology Emeritus from Butte College. Her service included teaching and serving as Chair of Social & Behavioral Sciences. She developed a Certificated program in Peace & Global Studies, Peace Psychology course, and Mindfulness and Meditation. This approach provides a depth and comprehension of the causes of human suffering, violence, and hatred as well as the causes of human compassion, empathy and the dynamism for cultivating and sustaining peace with others and the natural world. She's a long-time meditator, yoga instructor/practitioner, mother, grandparent, and consciousness explorer. Since leaving Butte College, and opening herself to a more spacious possibility in the world, Christine discovered and pursued a path in Consciousness Counseling, which is a passion that has exceeded what she considers a highly successful career at the college.
"Born of Caste" - Bell Tree Lovers Diane Suzuki, Jim Brobeck and Jim Miller perform Born of Caste written and sung by Diane. Jimmy Brobeck plays a Wiessenborn lap guitar, Jim Miller is on bass. Both Jims have been playing music for decades in different venues. Diane is the host of One World Music on KZFR. She also co-organizes the Touch of Chico and this year's event Uplift Community! Jim Brobeck is featured on Imagining Community on KZFR hosted by Guillermo Mash. More of their songs on YouTube: It's Broken by Jim Brobeck & Time's Up by Diane Suzuki
"Change and Freedom" - Cory Himp C. Hunt Local poet and hiphop artist HIMP C performing "Change and Freedom" Accompanied by Webster Moore on piano and Cody Naab on drums. Check out Cory Hunt's excellent interviews on KZFR's Peace and Social Justice Show on Fridays.
The project was a creative storming of gathering individuals who are offering what they are passionate about and hope you'll find mutual benefit from. Thanks to all who made this happen!