Chico's traditional celebration of Dr. Martin Luther King, Jr. will be held Sunday, January 19th, starting at 2:30pm with a RALLY at Chico City Plaza followed by a march through downtown led by the children with their homemade banners and posters.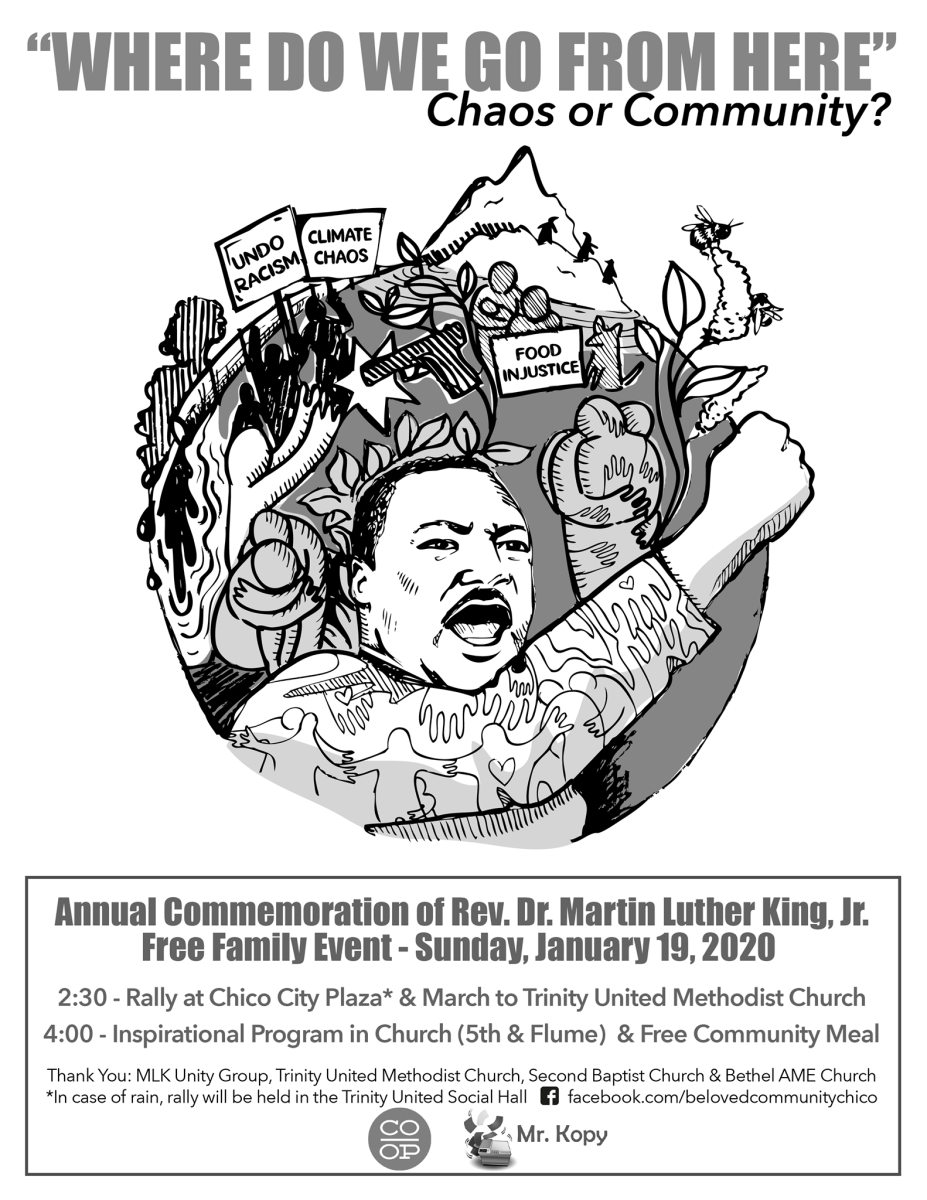 The March ends with an inspirational program at Trinity United Methodist Church, E. 5
th
& Flume Streets, 4pm. The day closes with a shared community dinner in the Church Social Hall. This is a free family event and all members of our community are invited.
Event details on the BELOVED COMMUNITY facebook page.

The theme this year is from the last book written by Dr. King, Where Do We Go From Here - Chaos or Community? published in 1968, only months before his assassination. The title of the book raises this deep question still challenging our nation today. Dr. King's thoughts will be reflected in the Church program with a presentation by Ajamu Lamumba reading from the book. The Rally features a multi-generational panel discussion on Environmental Justice with Cc Mahar from the Politically Active Teen Club at Inspire School of Arts and Sciences, Ali Meders-Knight, Tribal Liaison for the 2018 Farm Bill for the Mechoopda Indian Tribe, and Steven Marquardt of Sunrise Movement Chico.
In addition to the Panel, the Rally will offer performances by two children's groups, one drumming and one singing, plus high-spirited rap and a dance performance. The Rally ends with a short March around downtown led by the children, ending at Trinity United Methodist Church. Song leaders will keep the mood lively with old familiar songs. In addition to the reading from Dr. King's words, the Church Program features uplifting music by Cara Lamumba, Celebration Gospel Choir, Dominique Silva-Soares and Doin' It Justice Community Chorus, plus an insightful performance piece by Hue* Vision Productions and spoken word by Carter Students of Black Excellence from CSUC. Following the program all are invited to share a FREE delicious, cultural meal.
Sponsoring Organizations: MLK Unity Group, Trinity United Methodist Church, Second Baptist Church, Bethel AME Church
In case of rain, the Rally will be held in the Trinity United Social Hall.
Questions? Click facebook.com/belovedcommunitychico