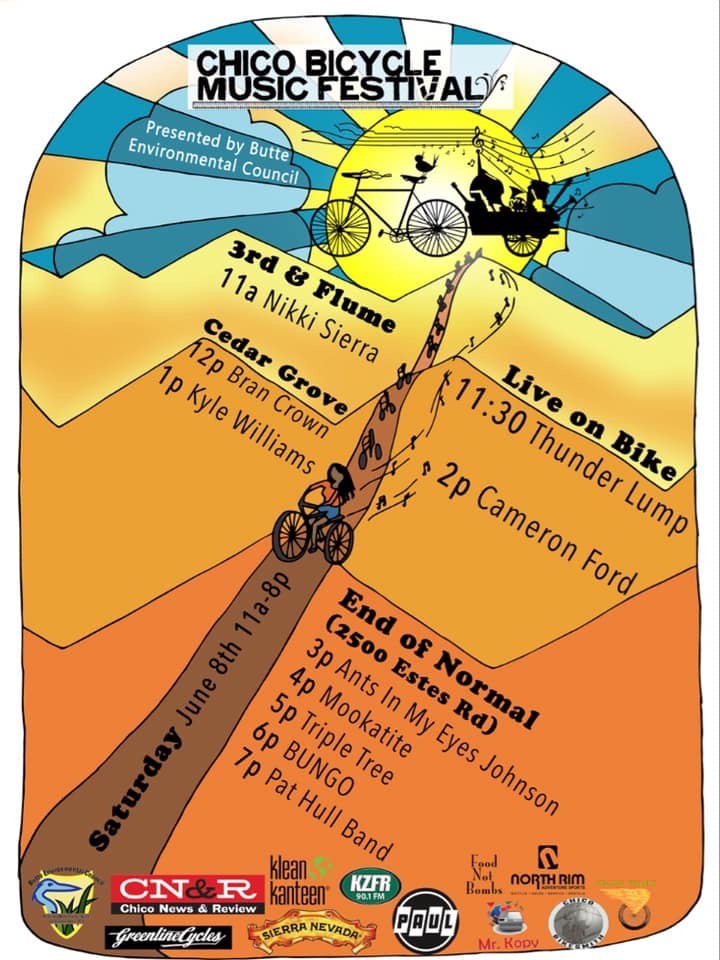 Meet us on bike, Saturday June 8th at 11 AM at 3rd St. and Flume by the Farmer's Market to kick off this iconic Chico event filled with bicycle powered music from local musicians, local food vendors, Sierra Nevada beer and more.
*This event is FREE to the public and a blast for all ages!

LINE UP

11 AM: 3rd & Flume - Nikki Sierra
11:30: Live On Bike - Thunder Lump
12 PM: Cedar Grove - Bran Crown
1 PM: Cedar Grove - Kyle Williams
2 PM: Live On Bike - Cameron Ford
Arrive at End of Normal (2500 Estes Rd.)
3 PM: Ants in My Eyes Johnson
4 PM: Mookatite
5 PM: Triple Tree
6 PM: Bungo
7 PM: Pat Hull Band

And featuring Amburgers spinning vinyl in between sets! Co-host of KZFR's Funky Reservations every Thursday afternoon.

This event showcases
Off-Grid Pedal Powered Music
Food Trucks
Sierra Nevada Beer
Prize Give-Away including a new bike from Greenline Cycles and bicycle furniture by Chico Bike Smith
On Site T-Shirt Screen Printing (Thank you Pedal Press!)
Crazy & Unique Bicycles
Bicycle Games and more!
We need volunteers on the day of the event! Sign up here: https://m.signupgenius.com/#!/showSignUp/5080e4dacac29a4f49-chico

Hosted by Butte Environmental Council and sponsored by: Sierra Nevada Brewery, Klean Kanteen, Greenline Cycles, North Rim Adventure Sports, Paul Component Engineering, Pullins Cyclery, Chico Velo, Chico Bike Smith, KZFR Community Radio, Chico News & Review, and Mr. Kopy

This year's fantastic posters were created by local artists: Quin Troester, Jason Gardinier, and Ava Moon!

Please support Butte Environmental Council by becoming a member. Your membership allows us to continue offering this event for free to the community. http://www.becnet.org/