Beef up your record collection with some good, old fashioned crate digging.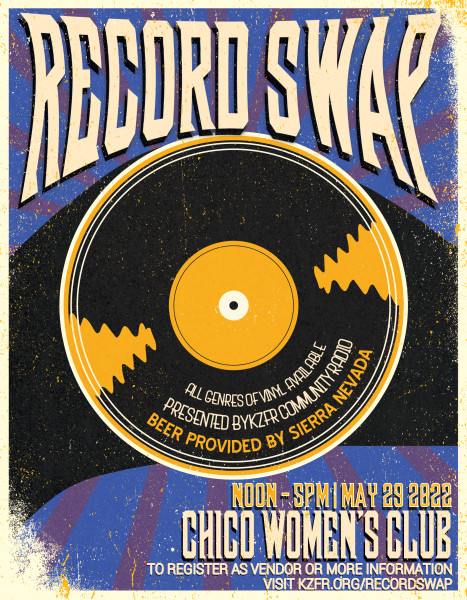 KZFR is excited to announce the Spring Record Swap, Sunday, May 29, 2022, from 12:00pm - 5:00pm at the Chico Women's Club. Collectors from all around the North State will be showcasing their collections. We welcome collectors of all genres!

WHAT'S A RECORD SWAP?
Think of it as a flea market or farmer's market for vinyl records. As a customer you get to peruse the catalog of vendors who have their records for sale. Prices of records are determined by the seller.
TRIVIA CONTEST WITH PRIZES!
KZFR's very own DJ PhG will be the MC running the Trivia Contest (yes there will be prizes!) plus he and other DJ's will be playing their favorite vinyl for you.
FOOD TRUCK
You better come hungry! The Lab Bar And Grill will be serving up delicious, locally sourced, organic dishes for purchase, too.
ICE COLD BEVERAGES
KZFR volunteers will be serving up ice cold beverages for purchase including Sierra Nevada ales, wine, hard ciders, soda & water.
Want to have a booth and sell your records?
Sign-Up today using our registration form. Registration is $20 and includes (1) 6ft table that will be your booth for the event. Booth numbers will be assigned by the event organizers.