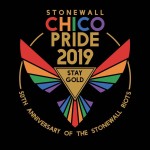 Celebrate our diverse LGBT*QIA2S+ community during
Stonewall Alliance Center's
Annual
Chico PRIDE Weekend
taking place Thursday, August 22– Sunday, August 25, 2019.
This year's theme is "Stay Gold"—this reflects the 50th (Golden) anniversary of the Stonewall Riots, which centered around New York's Stonewall Inn during June of 1969. This was an iconic uprising of queer and trans* people against state-sanctioned discrimination, incarceration and brutality from which our organization, like so many across the nation, takes its name. It was certainly not the first, nor last, riot of its kind, and in no way marked the end of cruelty or exclusion for the LGBT*QIA2S+ community. But this year we are proud to celebrate 50 years of visibility, of unity and of revolution.
Our $35 General Pride Access Pass gets you general admission to all events, plus two drink tickets to the Stonewall Bar for the Women's Club Events. Our $55 All Access Pride Pass gets you all the same perks, PLUS an up-front, reserved seat to the Performance Showcase!
Chico PRIDE Weekend will consist of the following events:

Thursday, August 22
- Queer Justice is Racial Justice: An Evening of Performance & Art (all ages) Chico Peace & Justice Center (526 Broadway St.) | 5-7 p.m. | Spoken Word | FREE and 1078 Gallery (1710 Park Ave.) | 6:30-10 p.m. | Art Exhibit | FREE QJRJ aims to center those of the QT*POC (queer and trans* people of color) community. Join us for a program of spoken word performances, discussion, music and art.
- Let Me Be Perfectly Queer Comedy Show (21+) Duffy's Tavern (337 Main St.) | Doors: 8:30 p.m. | Show: 9 p.m. | $5–$10 suggested donation. As part of Chico's Annual PRIDE Weekend, Cattywampus Entertainment, in conjunction with Stonewall Alliance are honored to host Let Me Be Perfectly Queer—featuring a fantastic hand-selected lineup of queer and trans* comedians from Chico and beyond. Join us for the fourth annual Chico Pride Comedy Show!
Friday, August 23
- Performance Showcase (ages 18+) – Featuring Uncle Dad's Art Collective & 2018 American Idol Drag Sensation, Ada Vox. Women's Club (592 E. 3rd St.) | Doors: 6 p.m. | Show: 7 p.m. | Admission: $15 standing, $35 seated (pre-sale only)The Performance Showcase (previously called the 'Variety Show') is an extravaganza not to be missed! Stars from near and far gather to present a spectacular evening of entertainment. Expect dazzling dancers, scintillating vocalists, daring drag stars and more unique performances. 21+ no-host bar. NEW THIS YEAR - we will have a seating section, with presale tickets ahead of the show. Reserve your seat now at StonewallChicoPride.com !
- Teen PRIDE Dance (ages 12-18) First Christian Church of Chico (295 E. Washington Ave.) | 7–10 p.m. | FREE The Teen Dance will be a safe space for teens to connect, dance, and express themselves proudly. The dance will be hosting drag appearances, free food and Mocktail bar, a photo-booth, and other fun activities.
Saturday, August 24
- PRIDE Festival (all ages) Downtown City Plaza (W. 4th St.) | 10 a.m.–4 p.m. | $5-$10 suggested donation. The PRIDE Festival will feature live bands, performances, speakers, and vendors who offer LGBT*Q+ resources in Chico. If you are interested in hosting a booth, please visit the PRIDE website. Meanwhile, Duffy's Tavern (across the street from the plaza) will be serving PRIDE drink specials to patrons, with a portion of the proceeds going to Chico PRIDE. Drop by and cooldown with a low-key, DJ lounge break during or after the festival.
- PRIDE Dance Night (ages 18+) Chico Women's Club | 8 p.m. | $5-$10 suggested donation. The 18+ PRIDE Dance Night brings Chico a classic club night, with music, lights, and amazing people to surround yourself with! There will be a photo-booth, live DJ's, and a 21+ no-host bar.
Sunday, August 25
- PRIDE Community Brunch (all ages) Oak Grove in Lower Bidwell Park (South Park Drive) | 9–12 p.m. | $5 suggested donation. End your weekend with community and live acoustic music at the PRIDE Brunch. Gourmet buffet provided by Leon Bistro.
Chico Pride needs volunteers, vendors and sponsors! This is an excellent way to get involved with the community, have fun and give back. Visit www.stonewallchico.org/ or contact (530) 893-3336, email [email protected] to get involved.
The mission of
Stonewall Chico PRIDE Weekend
is to strengthen and unite the LGBT*QIA2S+ community and its allies by promoting public events, social gatherings, support groups, counseling, and educational opportunities. PRIDE seeks to improve the lives of everyone by increasing visibility of LGBT*Q+ identified people and making the North State a safer place for all. All proceeds will fund Stonewall's mission of inclusion and empowerment.
KZFR is honored to be a PRIDE Sponsor!