This benefit and celebration of the music of the great Lazy Lester has been scheduled since his passing
in late August. The NEW sad fact is Lester's spouse, Pike Kaksonen, lost her home & all her & Lester's belongings
in the Paradise fire. She REALLY needs everyone to show up & give moral/financial support to her!
Please tell your friends/enemies/strangers all to show up for this important remembrance & benefit for Lester & Pike.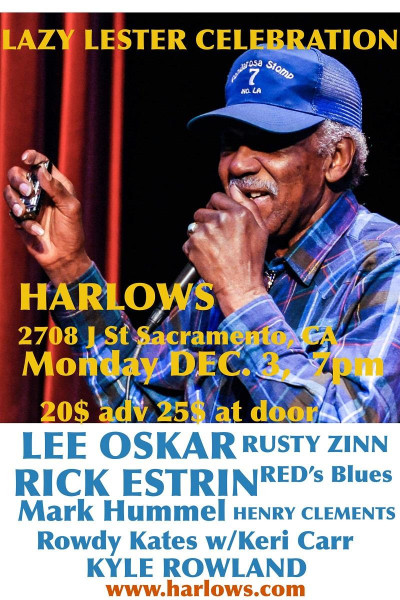 One of America's most notable musicians and architect of a music genre known as "Swamp Blues," Lester's original mash-up of Louisiana blues, rockabilly and country styles made him unique. Dwight Yoakam, The Fabulous Thunderbirds and The Kinks all recorded his songs, many of them now considered blues standards. Just this year, Lester was featured in a GEICO television commercial:
https://youtu.be/MNFbmyKqLfI

Read the NY Times Lazy Lester obit here:
https://www.nytimes.com/2018/08/24/obituaries/lazy-lester-bluesman-dead.html

http://www.lazylester.net/