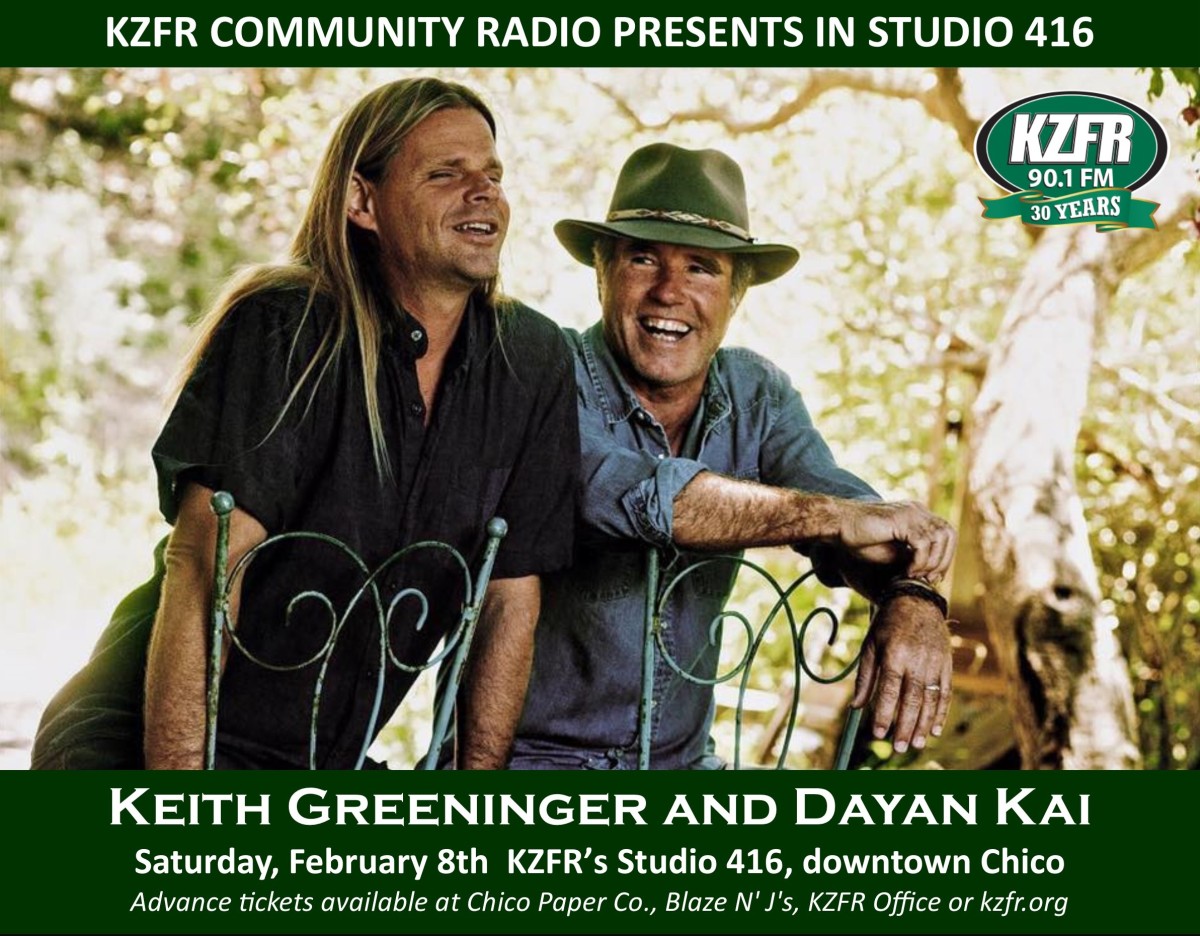 These two powerful artist and long time friends combine award wining songwriting, stunning vocal harmonies, and effortless musical collaboration to create a truly authentic and organic performance every time they take the stage. Greeningers new release, Human Citizen is set to drop January 6th 2020 and Kai released his beautiful solo CD, To Be Free summer 2019.
This is a small intimate performance in KZFR's Studio 416, at 341 Broadway in downtown Chico.
Seating limited to 40 persons. Doors Open at 6pm, show starts at 7pm. $22 Advance tickets available at Chico Paper Co., Blaze N' J's and the downtown KZFR Office or online at Brown Paper Tickets.
Both well known and critically acclaimed solo artist in their own right, together they create a compelling and soul stirring sound that has moved audiences all over the country and has made them a favorite at venues and festivals through out the US and Canada.
Keith Greeninger is a seasoned troubadour, award-winning songwriter, and captivating performer. Well know in the area as a founding member of the renown trio, City Folk. His masterfully crafted songs and warm distinctive vocals have earned him the top songwriting awards at the Telluride Blue Grass Festival, The Kerrville, Napa Valley and Rocky Mountain Folks Festivals. A fourth generation Northern Californian, Keith has traveled and lived throughout the United States, Canada, Mexico and Central America. His music has been deeply influenced by his work with Native American and Latin cultures, and his songs cut an honest, hard worn path to places of simple truth about good people holding on to hope and instinct in a world that often tries to strip these things away.
Dayan Kai is a true musical force of nature. Born without sight, he began playing classical piano at the age of two. He plays a diverse array of musical instruments with mesmerizing ease. With a harmony voice most angels would trade their wings in for, Kai moves fluidly between guitars, keyboards, winds instruments and percussion creating a rich musical backdrop for duo's expansive songwriting. He currently lives on the island of Maui and is a musical director at the Lahina Theater.