They're back for some Friday night fun! Sam and his band at the Women's Club for KZFR.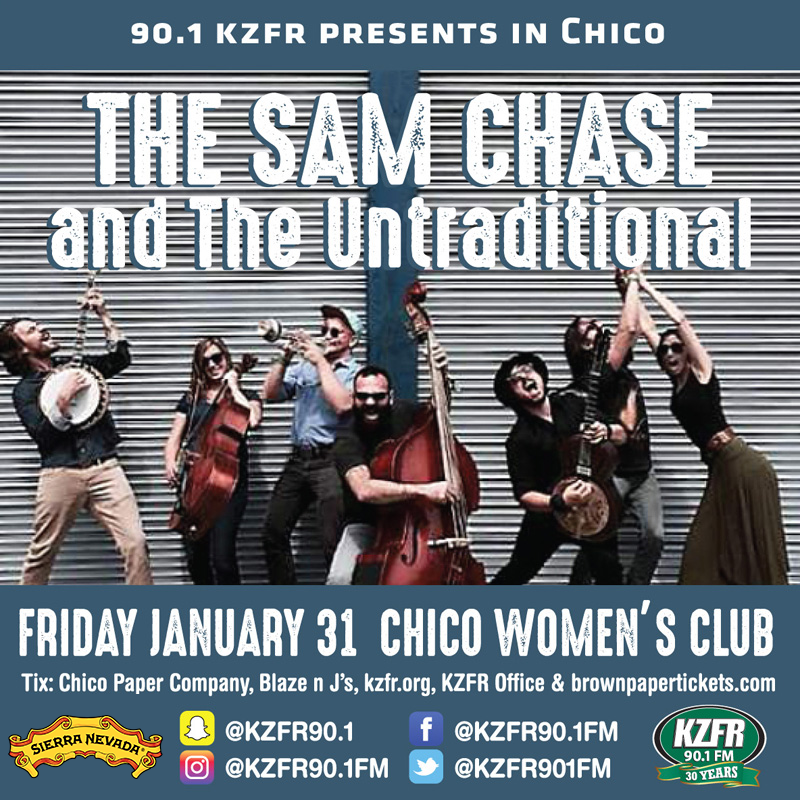 $10 Advance tickets available at Chico Paper Co., Blaze N' J's and the downtown KZFR Office or online at Brown Paper Tickets.
Partially seated with room to dance. Doors 6:30pm, Show opens at 7:30pm with special guest M. Lockwood Porter.
KZFR volunteers will be staffing the Bar. Sierra Nevada Brewery ales, wine, hard cider and non-alcoholic drinks will be available for purchase.
Nach-Yo-Burrito, not your typical taco truck, will have delicious food available for purchase.
"I love Sam Chase. He's got mischievous eyes and a booming voice. He's a clever songsmith and a dazzling performer. He was born in the punk scene and raised on the back of Merle Haggard and John Prine and was given dollops of Woody Guthrie in his oatmeal. He's sensitive and gruff at the same time in equal doses. I call him sensigruff. His voice is so powerful he could've cut through the noise on the floor of The New York Stock Exchange in the height of the 80s. Everyone would've just shut their pie-holes and listened to what the man had to say. Sam Chase is an American original and a welcome card carrying member of the united family of songwriting troubadours. God bless you Sam Chase." - Steve Poltz
The Sam Chase & The Untraditional hails from San Francisco, California. This juggernaut of a band blends rock n roll with folk music while maintaining the sensibilities and attitudes that come from growing up on a healthy diet of punk rock. The leader of the band is The Sam Chase himself, a natural storyteller with a voice that sounds as if it has weathered many an epic tale. With boot stomping orchestration and lyrics that have been immortalized on the tattooed skin of their fans, The Sam Chase & The Untraditional doesn't mess around. These are the warriors we need in these troubled times.