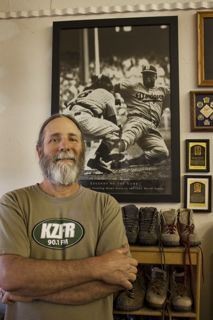 Blues Bayou
Preston brings you Rural and Delta Blues and Traditional Country Blues. With music from the 20's, 30's and 40's, with an artist profile each week, you'll learn about the Blues Masters and their music.
Featured artists include but not limited to... Blind Blake, Blind Lemon Jefferson, Sleepy John Estes, Bo Carter, Lonnie Johnson, Eddie lang, Snooks Eaglin, Charlie Patton, Memphis Jug Band, Big Walter "Shakey" Horton, Frankie "half-Pint" Jaxon, Bessie Smith, Butterbeans & Susie, Sonny Treadway, Glenn Lee, The Word, Brother Willie Eason, Sam Cooke & The Soul Stirrers, Dixie Hummingbirds, Five Blind Boys of Mississippi, Cecil Grant and so many more!
First Monday of the month, traditional artists born in that month. Last Monday of the month, is "Froh's Treasures" music from the vast collection of my late friend John T Froh. He was a lifetime resident of the town of Grimes, living his whole life in the same house he was raised in.

His family was of German desent and they owned land originally on the back side of the Sutter Buttes before moving the family to Colusa co. in the early 1900's.

The family farmed a large amount of acreage in this area for many years and in later years leased the land to other farmers after the family became unable to farm all the land themselves.

John was never married and is survived only by his nephew Charlie Froh, who still farms a portion of the land, and his sister in law Claire Froh who resides in Williams.

The family was interested in sharing this huge collection of sometimes rare and out of print music with the many listeners of my program, and others at KZFR.

They were nice enough to allow me to be the curator of the vast collection of music that John collected, and it will eventually be uploaded on to the hard drive of KZFR for future listening.