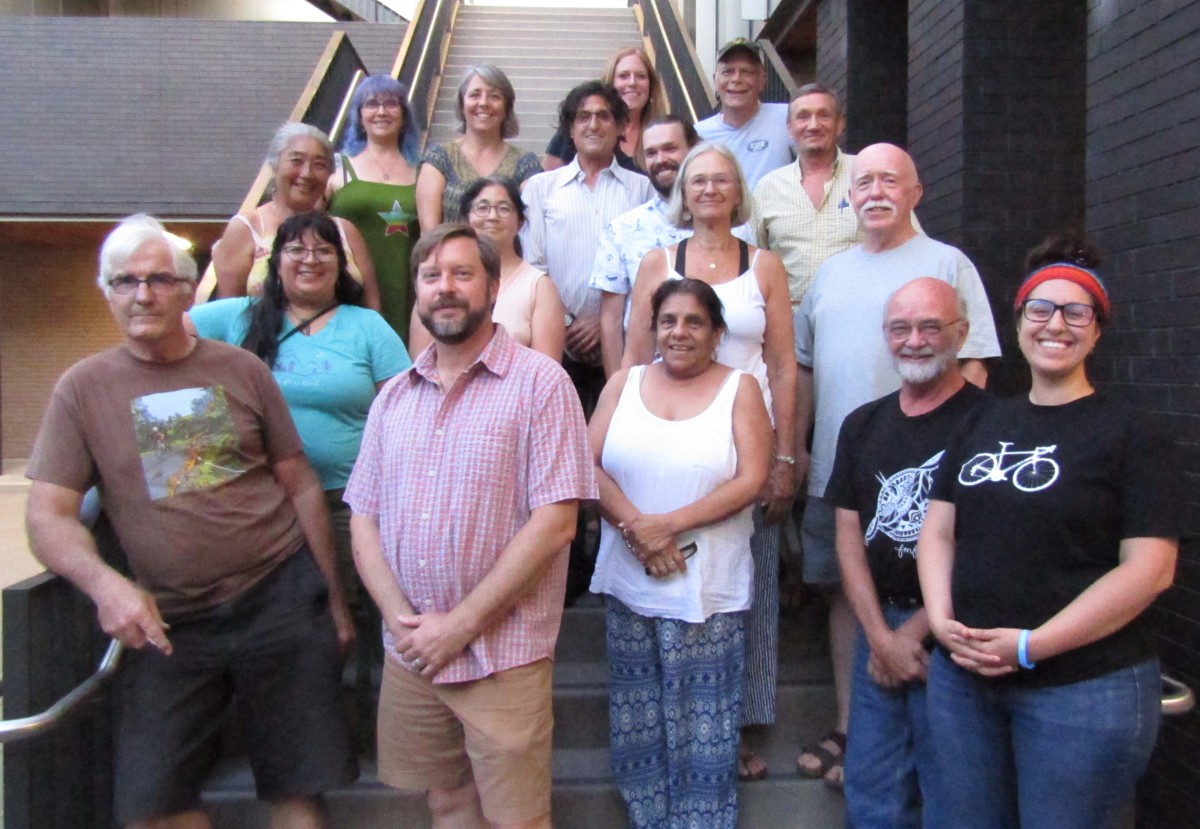 KZFR Diversity Training Group July 2019
pictured front row: Steve O'Bryan, Rob Davidson, Sandra Morales, Paul O'Rouke-Babb, Mercedes Macias. 2nd row: Anna Kastner, Jeannie Trizzino, Bobbi Tryon, Jim McCollough. 3rd row: Diana Suzuki, Robert Jones (presenter), Grant C. Parks, Ray Laager. top row: Leah T. McKean, Maria Olson, Courtney Farrell, Rick Anderson (GM).
Every year, the KZFR Staff & Board of Directors participates in a "Diversity Training."
"This training is intended to assist those guiding our organization to do so in ways that are not only culturally aware but also culturally sensitive to the needs of the present." explains KZFR Board Chair Mercedes Macias, "As culture is always changing and society itself continues to evolve, KZFR understands that we must navigate an increasingly diverse world both within and outside our work at the station."
While the announcement was made last minute this time around (apologies, Programmers!), KZFR Programmers, as representatives of both the station and our community, were invited to attend. This marks the first time that this training has been made available for our Programmers and is something that we intend to continue as an inclusive practice going forward, keeping to the purpose statements found in Article 2 of the KZFR Bylaws: "...to promote the cultural welfare of the community...contribute to the lasting understanding between nations and between the individuals of all nations, races, creeds, colors, abilities, genders, and sexual orientations; to gather and disseminate information on the causes of conflict between any and all of such groups; and through any and all means compatible with the purposes of this corporation, to promote the study of political and economic problems and of the causes of religious, philosophical and racial antagonisms…"
This year's training was provided in-person by former KZFR Board Member, Robert Jones, who received a PhD from Stanford University and has recently transferred from a teaching position in the Philosophy Department at CSU Chico to teach at CSU Dominguez Hills (we'll miss you, Robert!) The 2-hour training, tailored to reflect the diverse needs of our KZFR community, took place on July 30th 2019 from 6-8pm in the new ARTS Building at Chico State. It was offered free-of-charge and was well attended by over a dozen participants (see photo above).
"Diversity training is an important addition to having the privilege of being a broadcaster on community radio," shared Diana Suzuki, KZFR programmer and host of One World Music, who attended the training, "What we put out over the air waves must be as respectful as possible and that does take self-education, contemplation and conscientiousness on our part. What we learned from Robert Jones' presentation is that we all have some form of prejudice and implicit bias as a part of this is unconscious. The call to wake up to our prejudices seems to be an urgent one at this time! You may claim to be "woke" but there is always another layer to peel away if you grew up in this society. The pre-test we took before Jones' presentation showed me I still have many layers to peel away even after decades of teaching curriculum on racial equality, gender equity, cultural appreciation and awareness of the multitude of "isms" in our society and how to be an ally. I've learned recently that there is more to this work than just showing up to protests, stopping someone from making a racist joke. We must step it up. As allies, we are helping or standing up for someone who is "disadvantaged." In solidarity work we recognize the destructiveness of white supremacy to all humanity. We acknowledge that our collective well-being is interwoven."
This training fulfilled our minimum obligation for the Corporation for Public Broadcasters Grant KZFR receives each year. To learn more, visit cpb.org/stations.
Keeping in the KZFR spirit, we hope to continue "to enlighten, entertain, inform and educate our listeners" and ourselves for many years to come.