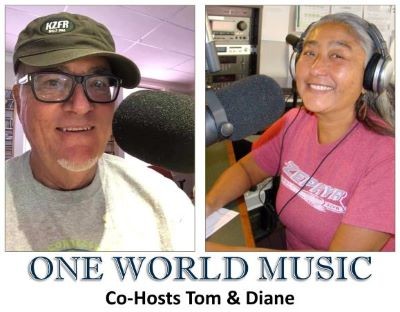 One World Music
Spin the globe with One World Music alternating co-hosts Diane Suzuki & Tom "Big T" Gagne.
Featuring indigenous, traditional and contemporary world music from around the planet. Interspersed between the music are short inspirational readings and interviews from spiritual, social, environmental and political sources.
One World Music promotes the concept that the inhabitants of our planet can unify and learn to appreciate and respect one anothers' cultures through exposure to the richness of the spectrum of music.
From Cameroon Baka Beyond, New Zealand Te Vaka, Tarika from Madagascar, Nawal from Cormoros Islands, Garifuna roots music, Tuvan throat singers, hang drum music, Hawaiian artists, from continent of Africa Malian kora players, Dobet Gnahore, Tuku, Asa and Fela kuti and so many more!
Alternating Wednesdays

,

12:30pm

–

3:00pm