Thanks to your contributions we went over our Spring 2023 pledge drive goal. Your support is what keeps independent community radio alive in the North State.

"Gratitude to the max! Every bit makes a difference at your community radio station. You, the listener and supporter, allows KZFR to be an arts & culture epicenter and a reliable source of news and information for the North State. Thank you to our phone volunteers, Programmers, staff, and YOU! You put the UNITY in community radio!" - Grant Parks, KZFR General Manager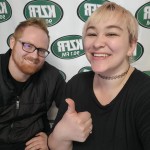 We also want to send out a huge THANK YOU to everyone who volunteered during this pledge drive.
Especially to the
17 Local Nonprofit Organizations
who answered the pledge drive phones for 10 days along with dedicated community members, programmers and board members. We appreciate all the groups! You can see the
complete list here
. We're sure they could use some volunteer help as well.
Also much appreciation and respect to the
7 California Music Festivals
who contributed to our Pledge Drive!
Thanks to the 7 generous festivals some very happy listeners who pledged during our spring 2023 pledge drive will be attending some amazing festivals this summer. Thank you to all the music lovers who support community radio!