We're excited to announce that the Sierra Nevada Brewery is honoring us with a special KZFR 30th Anniversary Ale!
Hopped as high as Nimshew Ridge, this IPA celebrates 30 years of community radio at 90.1 FM. Countless volunteers fill the airwaves with diverse music, news programs and eclectic ideas, helping the North State stay informed and enlightened. Cheers to our longtime partner who empowers the people!
"This is a really cool thing our friends at Sierra Nevada Brewery are doing for us," shares KZFR General Manager Rick Anderson, "We thank them profusely for the love. I want to thank you all for 30 years of dedication to our community and KZFR."
LET'S CELEBRATE!
Our big anniversary party has been postponed, like all live concerts this year, but that doesn't mean we can't celebrate so we're having a special "Ale Release Pledge Drive" Wed 9/9 to Sat 9/12.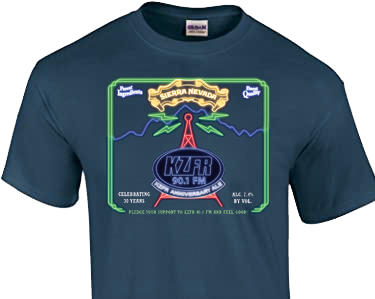 Click DONATE or call 601-340-KZFR to pledge your support to the station and get a limited edition shirt and/or poster of the cool KZFR Anniversary Ale label art as a thank you gift.
Tune in your favorite KZFR show at 90.1 FM or stream
kzfr.org
for more details this week Cheers!