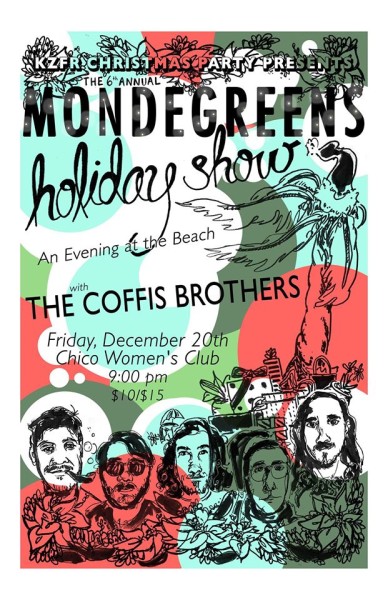 It's a potluck holiday party at the Chico Women's Club with two great bands the Coffis Brothers and the Mondegreens.

$10 Advance tickets available at Chico Paper Co., Blaze N' J's and the downtown KZFR Office or online at Brown Paper Tickets. Doors 6:30pm, show 7:30pm Partially seated show with room to dance. Please, bring a dish or desert to share.
RE: THE MONDEGREENS With the spring release of their second full-length album, All Our Neighborhoods, The Mondegreens have taken yet another major step forward. What started as foot-stomping, folk-rock, echoing their sunny roots in rural Northern California, has developed an edge since a 2015 relocation to Seattle. All Our Neighborhoods still carries the ever-present three part harmony and wide dynamic swings of the bands earlier work, but is now laden with lush synths, and an exploration of where crunching guitars meet pop sensibility. Following their May album release party at Neumos, The Mondegreens will embark on a summer-long album release tour of the western US.
THE COFFIS BROTHERS & The Mountain Men are a rootsy rock n' roll band born and raised in the Santa Cruz Mountains. Influenced by those early surroundings, songwriters Jamie and Kellen Coffis' blend of folk, blues, R&B and straight-ahead rock is evidence an upbringing spent listening to all of the right records from Tom Petty, Neil Young, and The Beatles.